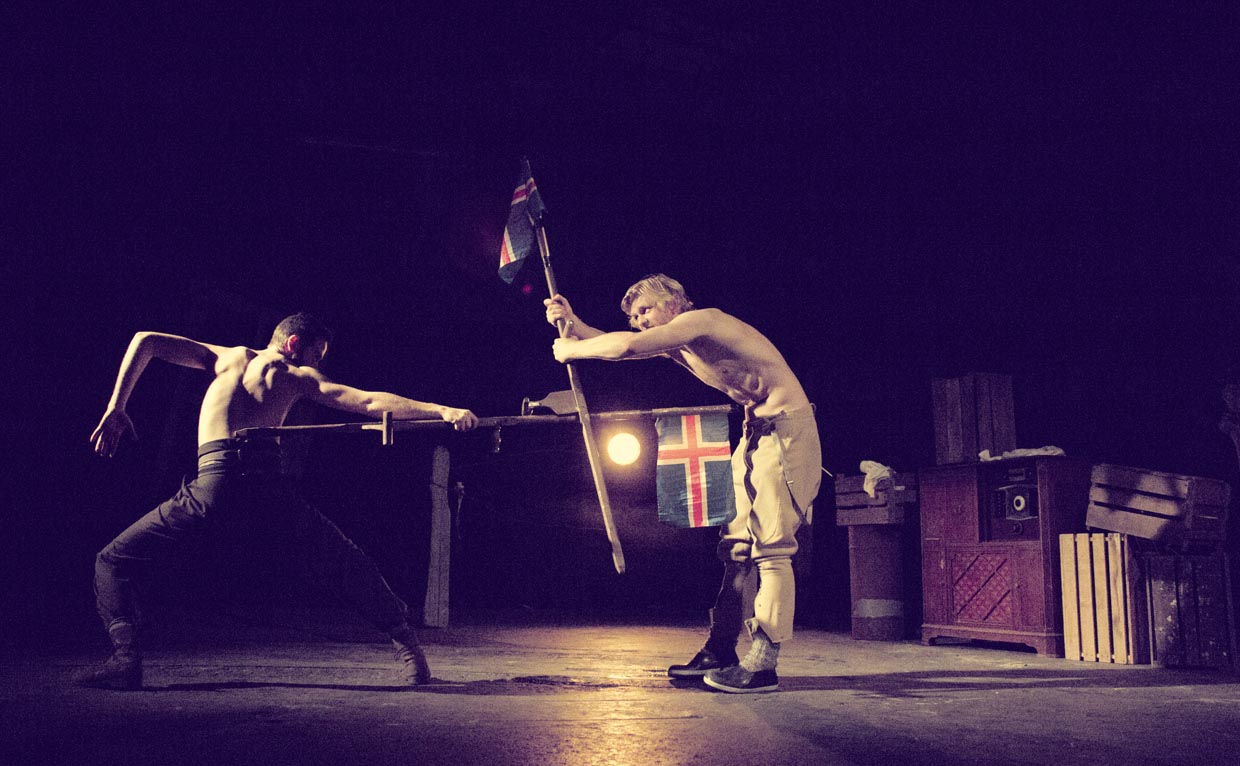 ... to our website, dearest foreign speaking friend.
We are the theatre group "Sómi þjóðar" - or indirectly translated "Honorary Nation". Here you can find a little bit of info about us and our shows. It is not conclusive, since we are a bunch of rather bohemian artists we like to spend our time on basically anything else than marketing and websites. But we have done our best to be digitally presentable, we hope you enjoy.
If you want any more info or contact us to say how awesome we are just press here, and for photos press the MYNDIR option in the menu.
Short History / Past pieces:
Honorary Nation was formed in the basement of a semi-abandoned shopping complex in Reykjavík in 2011. The space, formerly an ill-advised vegetarian restaurant, was dusty and damp, and served as the perfect setting for Gálma, the maiden piece. There we tackled the icelandic post recession renaissance, built on exactly the same "city in the clouds" and "Iceland is (still) the most fantastic country on earth" principles that originally led to our nation's demise.
Gálma was nominated at the Icelandic Theatre Awards. Here you can see photos by Hörður Ellert Ólafsson.
What followed was Punch in 2012-13. A co-production with the scandinavian company Sticks and Stones and Leikfélag Akureyrar (LA). The show toured both in Iceland and Norway, exploring the scandinavian/european/human fascination with staged violence and misery. Here you can see photos, again by Hörður Ellert Ólafsson.
Then we premiered "Ég er vindurinn" by Jon Fosse in the National Theatre in 2013. That was the beginning, and the end of our flirtation with overseas classics. Pictures you find here.
We returned back to our roots and doing our own stuff in MP5, which was premiered in December 2014. MP5 was the first piece in a trilogy, exploring current social and political issues in Iceland, as well as an experiment in seeing just how quickly we could respond to the headlines of society.
We gave ourselves 30 days to find a theme, write a performance, rehearse it, make a set and finally premiere. The Show was hailed as a fresh breath of air in the Icelandic theatre scene and a proof of how affective and impressive simplicity on stage can be (no, that is not just us saying it, this was the critique we got on RÚV, the national television station).
Pictures you can see here. The full video (where we had go-pro cameras on our head to give audience members a glimpse of how it feels to be an actor on stage... it failed but we did get some interesting shots) you can see here.
But, in the words of the Monty Python gang: "Now time for something completely different."

So Honorary Nation decided to do an opera. William Walton's The Bear was our weapon of choice as we entered the extremely seclusive and conservative opera scene in Iceland. We wanted to take the opera out of the fine halls of Harpa and down into the gutter. So we staged it in some of the most notorious bars in Iceland, the set was used sex toys and we made sure the piano was not too well tuned.
The reaction was incredible, both overwhelmingly positive and fiercely negative. Every show was sold out while the classical critics had a hard time even spending one star on us in their reviews. For us, that was mission accomplished.
It was time to go back to basics with the second part of our sci-fi trilogy. This time we tackled the refugees crisis using the same manifesto as before in MP5. The piece was called Könnunarleiðangur til KOI, or simply KOI. The performance was very well received and we ended up getting our second nomination for the Icelandic Theatre Awards.
Continuing on the lines of social and political issues we turned inward and to our own families. Gathering stories, most imortantly stories no one wanted to tell. Or lacked the courage to voice out. We brought the pan-nordic silence under our microscope in a naively personal, yet narratively ambiguous, performance called Thousand Years of Silence. According to critiques (we only quote those when they are positive) the established Honorary Nation as Icelands's most interesting and cutting edge theater group (Sig. Frbl.).
Again we were nominated for the Icelandic Theater Award, and for the third time we lost.
Our ninth and latest performance was SOL, which premiered on December the 1st 2017. Perhaps our most conventional piece to date, we took the true story of Davíð, an semi-professional video gamer and his relationship to his game partner SOL, to the stage in a homage to video games and the art of escaping reality.
The reception was roaring and we smashed our attendance record. Which wasn't very high, we are a contemporary theatre group in Iceland after all, but still made us very proud to see we are still growing and inspiring new audience.
Coming up:
Next year will be somewhat more quiet that the years before. This is simply die to the fact that two key members of the group are having children in July 2018 and will be busy changing diapers and marveling at their children .
Nonetheless there are two projects under development: The Resident's Association and Kaktus.

Finally, a quick reminder: If you want to contact us press this link: "hafa samband".

For photos you can press the "Myndir" link in the menu.